Ball Games and Ozmo
Ozmo is friendly robot, he makes free games for everybody, you can play that games online. This sub page is created by creator of this page. Ozmo is our biggest project. Especially super mario games lovers will like our ozmo games page. 200+ super mario brothers games in there.
Here is a little preview of Ozmogames web page.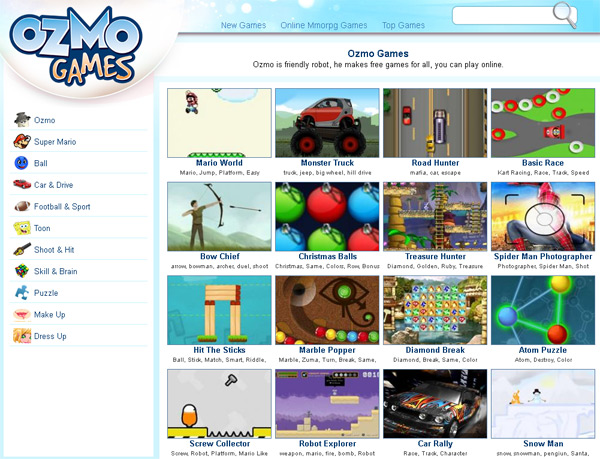 Who is Ozmo
Ozmo is a little robot full of energy and he loves fun. You will find games of ozmo that page. Also ozmo will bring you newest pixy games. Pixy is her friend lovely pixie

Soon you will get ozmo games on mobile devices. Android and tablet games will make you happy. first games will be priceless. Also we will always create free games for both iphone and android devices.
in our ozmo games page you can find any kind gold and jewelry games That games created for girls and teenage girls, We know you like to play with precious items like gold, silver and diamond, golden rings. You can play with that games to satisfy your golden feelings.
What about Gold Mining
Ozmo games has no any intention to create gold miner games, but you can play gold miner games in here, because this page is also our product, we are here to help you to play easy and good games. You can find more than 23 gold miner game in this page.
Red Ball Games
As ozmogames team we have created ball game that name is `new red ball`, you can search in any market with this name: android, iphone or windows phone market. We made red ball game for tree different plaform. Jumping ball game, you can find this ball game on flash web pages. The ball collecting golden stars and jumping over platforms. Click this link: Red BALL to play new red ball game. Also you can check our game creation team page Ball Games of Gamikro here:
Red Ball Games for devices without keyboard
RedBall android for android phones and tablets
RedBall itunes for ipad or iphone
RedBall windows for windows8 phones